7 Meaningful Gifts for Dad from Daughter on Fathers Day!
"A daughter needs a Dad to be the standard against which she will judge all men"- Unknown Author
7 Meaningful Gifts for Dad from Daughter on Fathers Day!
I for one, am a dad's girl. Always have been. Always will be. Okay, maybe its because I grew up without my Mom. But to be totally honest, EVEN if she was around, I don't think he would have stopped being wonderful.
He is the best Dad I could have asked for. I know we all think the same when it comes to our Dads, but hey, that's beside the point!
As a single parent, he has always given his best shot to raise my brother and me. I don't know how we got so lucky to have him in our lives and be able to call him our Dad! ***Totally NOT gushing here***
So, yes. Fathers day is special for all of us. And a special man like Dad needs special and thoughtful gifts. Agree? In this post, I share 7 Meaningful Gifts for Dad from Daughter. Thankfully Etsy makes it so easy to shop on a budget without compromising on quality. Not to mention, I am passionate about supporting local businesses, so it is great! If handmade or vintage is your thing, behold! You will be in shoppers heaven looking at great Fathers day gift ideas on Etsy this year.
Luckily for you, here is a list of gifts that will totally wow your dad even if he says he has EVERYTHING and doesn't need any gifts. Sounds familiar? Yep! Rad gifts for rad dads. It's one of life's greatest mysteries, stumping wives, sons, and daughters since the dawn of time: What's the perfect gift for Dad? We've got the answer with these unique Father's Day gift ideas. You can get him something personalized, like a leather keychain or toiletry bag. Or some handmade grilling accessories for burger flipping. Custom picture frames, beer glasses, or portraits are more fun ideas to celebrate Dad. Add an illustrated card as the finishing touch and he's going to have the best Father's Day ever.
I have found some AMAZING gift ideas on Etsy that are so cute and too rare and I guarantee, your dad does not have it, yet. So what would you do? You are going to get one of those for him. And make his day!
So dig in. Take your pick. Order the ones you like now to get it just in time for Fathers day this year. And trust me. There is something for everyone on this list- new dad, old dad, coffee-loving dad, chef dad…you name it, you got it.
You are welcome 🙂
1. Fathers Day Gift Basket for a Chef Dad
If your dad is a foodie, look no further than this Wood Smoked BBQ Seasoning Gift Box Set.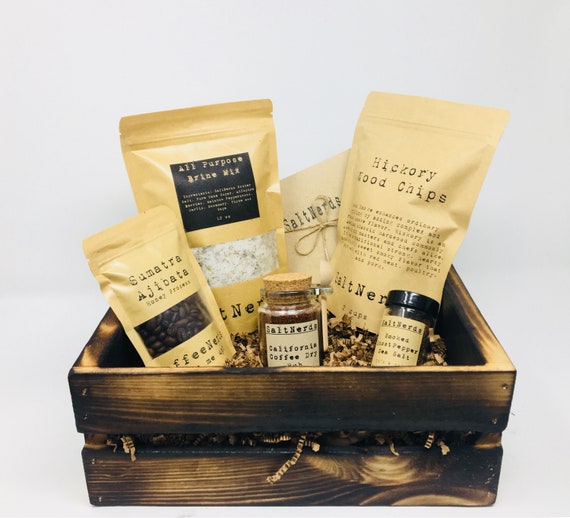 A thoughtful handmade gift for the person who has everything! This wonderful Fathers day gift basket includes products like California Coffee Dry Rub, Smoked Ghost Pepper Sea Salt, SaltNerds All Purpose Brine Mix etc to name a few. Not to mention, this is handmade and made to order, courtesy of Etsy.
2. Personalized Fathers Day Shirt
Wanna engrave a special message for him? Say it with a shirt! This Personalized #1 Dad Men's Shirt is perfect for that.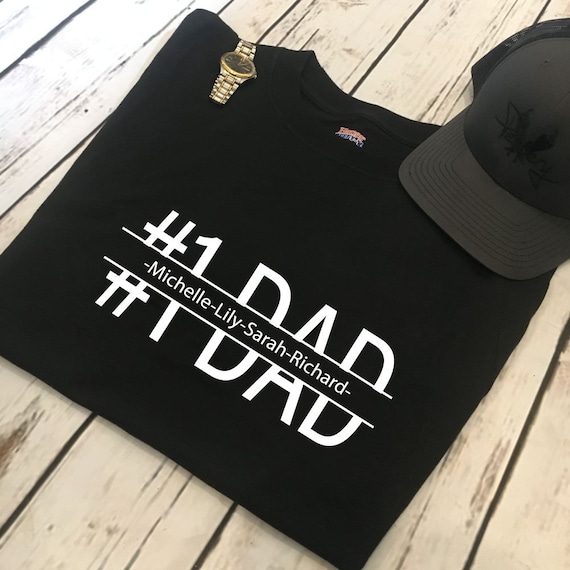 Ordering your special shirt is easy. Specify the message you want at the checkout and wait for the arrival of your package, custom made! Personalized Fathers day shirts are one of the trendiest gift idea this year and now you can get one too for your Dad.
3. Fathers Day Photo Tie!
Okay, officially this is my favourite from the list! I mean how cool will be a photo tie as a Fathers day gift?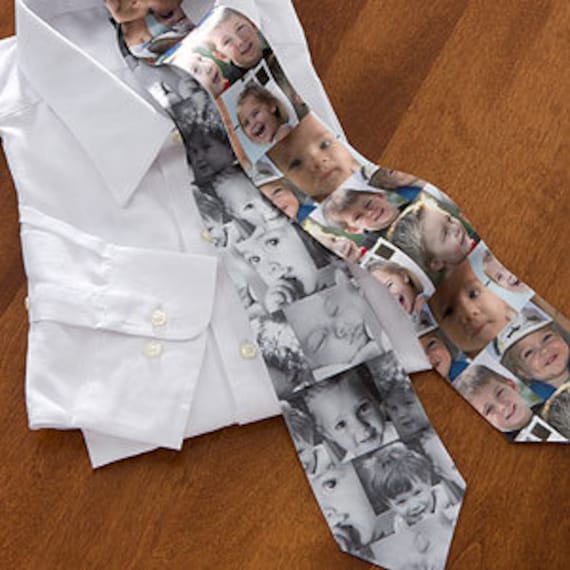 The creator of this photo tie on Etsy really makes it all easy to order one. Send her about 1-6 photos. It doesn' t have to be the kids, could be your pet, motorcycle, John Deere, well any photos of his favourite things…maybe even you! Can be done in color or can be changed to sepia. Really, have a look!
4. Fathers Day Gift for a Book Lover Dad
Your Dad a bookworm? Ideas are limitless for book lovers, but here's something special- personalized bookmarks!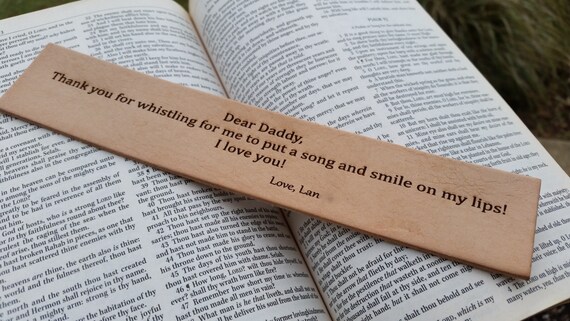 These leather bookmarks can be CUSTOM engraved with your own saying. The perfect gift for those that LOVE to read for any occasion be it a birthday, Christmas, New Years, Thank You, Love You, Graduation AND Fathers Day! Write your heartfelt message today.
5. Personalized Fathers Day Mugs
These are always evergreen. If he is a coffee lover like you, in my case, he is- he would LOVE a personalized Dad mug!
At the checkout, you can add a note about what would you like to engrave on the cup and ta da! Job done. And you have a meaningful and personalized Fathers day gift for your Dad.
6. Fathers day Handprint Keepsake
How about a personalized poem for your Dad as a keepsake this Fathers Day?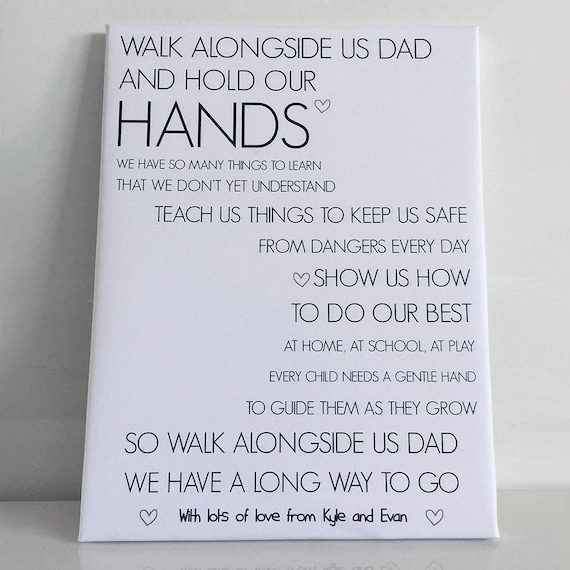 Try something as meaningful as this canvas and your Dad will forever cherish this year's Fathers Day gift!
7. Personalized Fathers Day Cards
Now add a finishing touch to your Fathers Day gift with a meaningful and personalized Fathers day card! There are a lot of choices available but I really love these cards from Handmadebyswans on Etsy.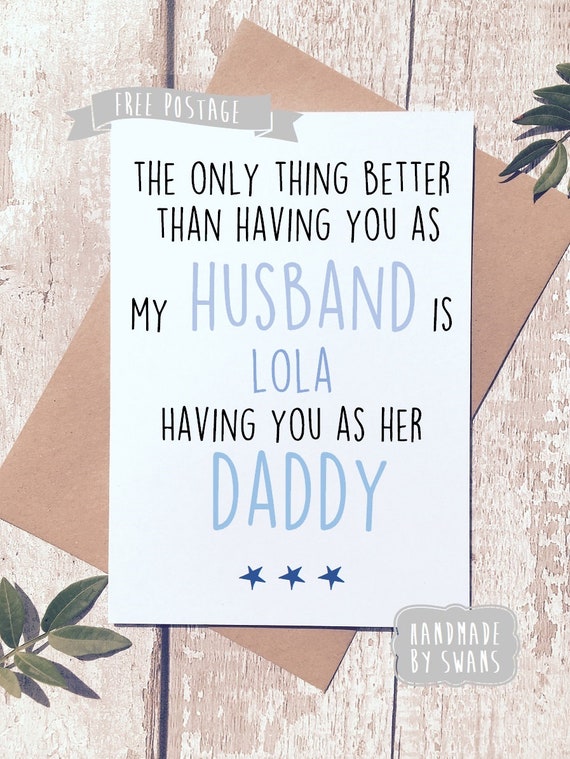 Words are just beautiful and heartfelt and created on a luxury white card. Includes envelope and the inside is left blank for your own messaging. Take a look and shop other similar items too.
Who knows, maybe you will find more Fathers day gift ideas?
That's all I have for you today. I love shopping for my Dad this time of year. And these meaningful gifts for dad from daughter on Fathers day would certainly help me to put together an awesome Fathers day gift for my Dad.
How about you?
***Disclaimer: This post contains affiliate links. Please see my Disclosure Policy page for more info***