I should really stop bombarding you with all of my Mothers day gift ideas but what to do? Some of them are really hard to pass. Like Mama's Jewelry. If you are looking for Mother's day personalized gifts, this is the place to be. They have been designing rings and pendants for moms for 30 years, and has no intention of slowing down!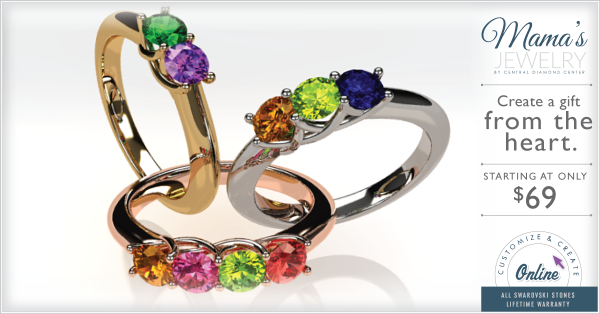 I got invited to work with them on their Mothers day campaign and man! Am I not excited? First of all, I love all that bling! Their collection of beautiful rings, pendants and necklaces are simply stunning.
RELATED: Mother's Day Gift Ideas for a First Time Mom
I know jewelry is really a predictable gift but if it is Mama's Jewelry, I have no complaints! After all, as Moms, we work 365 days a year, right? So we deserve to be spoiled with some Mama's Jewelry love.
Get Mother's Day Personalized Gifts from Mama's Jewelry
Now, if you are looking for gifts for your own Mom and really prefer something thoughtful this time., may I suggest you design a ring or pendant or earrings for her? Yes! What a perfect way to tell her she is a wonderful Mother. Visit their site and start brainstorming stunning designs for your piece. Making Mother's Day personalized gifts with Mama's Jewelry is truly simple! Choose a favorite setting and metal, personalize with birthstones and then customize. Voila! It is so easy to create a unique custom-made jewelry as special as your Mom.
RELATED: Mother's Day Gift Ideas for Expectant Moms
She will be blown away by your thoughtful Mothers day gift!
Mama's Jewelry assures their customers that most orders for mothers rings and pendants are able to be sent out within 3 to 5 days, arriving at the destination about a week later. If you're shopping at the last minute, Mama's Jewelry will take care of you and ensure that you get a custom made item that looks like it took months to make!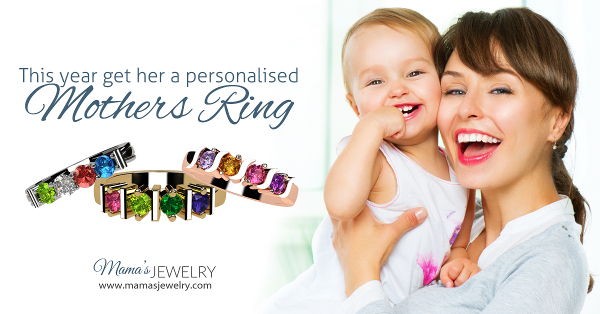 Now on to the good news.
Mother's Day Special Offer!
Save $10 Off already low prices. Use Code: MAMAS10 (minimum purchase $59)! Woohoo!
That's what I call shopping made easy!I can't wait to order mine. Yes, you guessed it! I have decided to gift myself with little something, courtesy of Mama' s Jewelry Yay!
Once I get my bling, I will make sure to circle back with a review, so watch this space.
Meantime, hop on their site and take a look at the sparkling display.
What I think is this: We really don't need a reason to own a pretty piece of pendant or ring. We are Moms. Enough said! Do you catch my drift?
Anywho, hope you got some 'glittering' ideas on Mother's day personalized gifts from me today. You are welcome!
Happy Shopping 🙂
****This post is written in partnership with Mama's Jewelry. However, opinions stated above are my own***
FREE Self-Care Planner Bundle when you subscribe!
Your email will never be shared!